Crafting Custom Bar Tops and Accents with Myers Architectural Millwork
Are you eager to add unique accents, structures and utility to your business space? Creating custom bar tops can be one of the most diverse and expense-effective ways to bolster the grandeur of your establishment.
With Myers Architectural Millwork, you can transform any interior into a stunning piece of art that will leave your clientele in awe. Our experienced team creates free-standing works or applied sculptures with precision craftsmanship and high-end materials, providing bespoke structural elements fit for even the highest expectations.
Based in central Indiana, Myers is a leading regional producer of custom millwork for commercial settings. Our team of has produced custom bars for such clients as Ruth's Chris Steakhouse, Carmel's 101 Beer Kitchen and Social Cantina, The Fountain Room in Indianapolis and many more. From bar tops and accents to cabinetry and flooring, we specialize in crafting unique pieces with superior quality that are both aesthetically pleasing and functional.  Our knowledgeable staff is ready to collaborate on the perfect design solution that meets your needs within budget and timeline.
Bar Top Materials
Myers Architectural Millwork offers several material options for our custom bar tops, including natural stone like granite, quartzite, marble, soapstone, limestone and travertine; solid surface materials; concrete; hardwood; ceramic tiles; laminate; metal surfaces such as stainless steel or copper and more.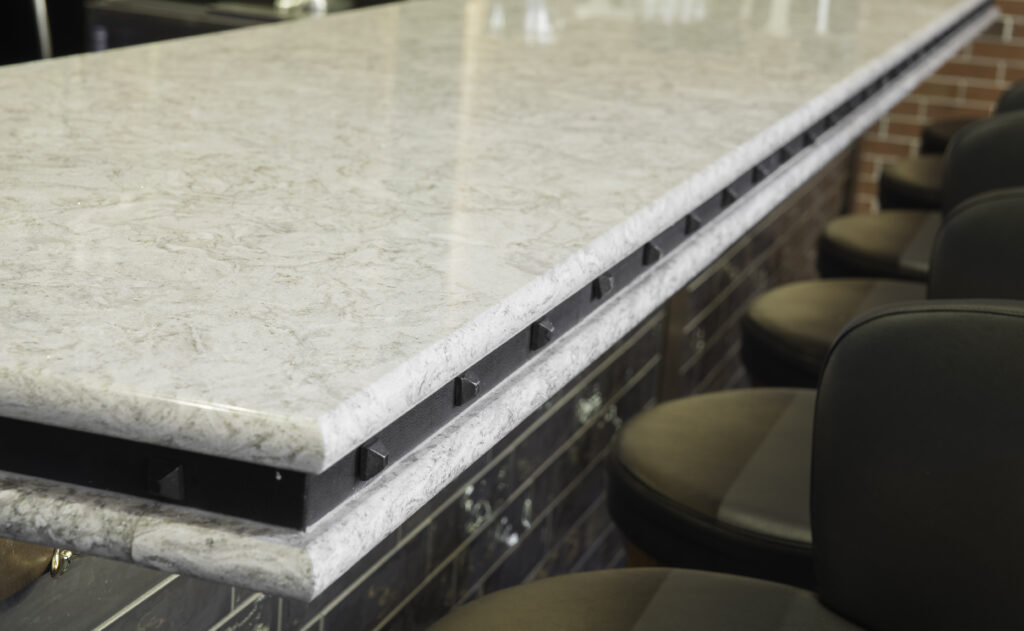 Each material offers its own distinct characteristics that can be used to enhance the aesthetic appeal of a given space. For instance, granite is known for its strength and durability while hardwood offers an elegant look that will never go out of style. "Starlight White" quartzite can breathe life and light into any room with its subtle blend of white and gray colors among scattered mirror pieces. For those looking for a classic look with more durability, Myers also works with reclaimed woods such as pine or oak that are perfect for creating warm rustic bar tops.
Regardless of which material you choose for your bar top, Myers will work with you to create something truly special. 
Woodworking Styles
Myers applies a variety of wood styles to create bars or pieces for other commercial spaces. We work with clients to select from several different woods, including walnut, oak, cherry, maple and even exotic woods like ebony and rosewood, which can be incorporated into design elements for added sophistication or boldness depending on the desired look.
One of the most popular styles of wood used by Myers is hardwood. Hardwoods such as cherry and mahogany have a timeless beauty, making them perfect for traditional style bars. These woods are strong and durable, able to stand up to the demands of a bustling restaurant or bar atmosphere. With their natural grain patterning, they lend beauty and elegance to any space. Softwoods such as cedar can also be used in custom creations from Myers. Cedar is often employed to create accents that add character and charm to bars due to its warm color tones and grains. Softwood pieces can also add texture and visual interest when combined with other woods.
Finishes can range from traditional to modern. One popular finish is distressing which gives the wood a rustic look that's perfect for creating homey atmospheres. And if you're looking for something truly unique? Myers can also insert custom designs such as logos or other symbols into the woodwork itself!
We employ several techniques during the construction process, including sanding, routing, planing, carving, staining/finishing, mortising/tenoning, gluing/clamping, cutting/shaping joints, polishing surfaces and protecting against moisture damage by applying finishing sealer coats where necessary. This ensures each piece will last throughout years of heavy use while preserving its original beauty as well as protecting it from moisture damage due to spills or condensation build-up over time.
Bar Accents
Bar accents are another area where we excel in producing beautiful designs. Pieces can be inserted as a decorative addition or even part of the main structure of the bar itself. Our clients can choose from different styles such as shaker-inspired cabinets, traditional raised panel doors and slab door designs. Whether it's an eye-catching backsplash, carved columns, decorative moldings or hand-crafted railings and cabinets, these pieces can transform even the most basic bar into a stunning display.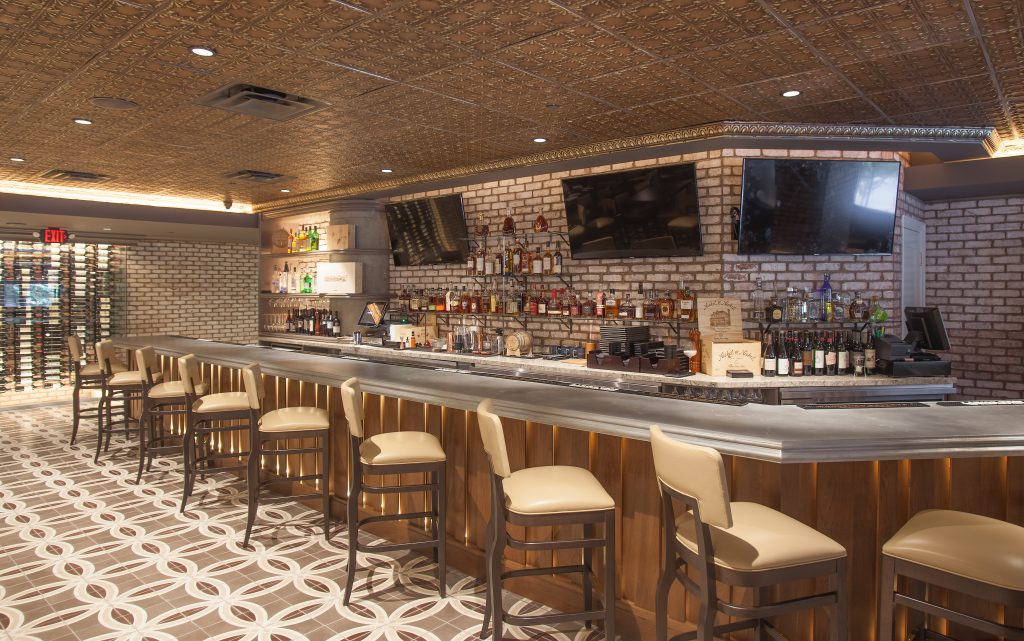 From sleek modern designs to rustic industrial looks, Myers can help you achieve your vision with our custom creations; the possibilities are virtually limitless when forming stylish woodworking pieces.
Contact Us Today
At Myers Architectural Millwork we understand how important it is to have high-quality bar tops and accents that match the aesthetic vision of your business. Our team is committed to working closely with clients throughout each step of the process so we can create beautiful yet functional pieces tailored specifically for your needs.
With a wide selection of stone bar top materials as well as top-notch woodworking capabilities, we have everything needed in order to give any space an elegant touch without compromising on quality or functionality — something only true professionals like Myers can provide. Contact us today to learn more about our work and how we can usher in new life within your walls!