Six Ceiling Styles for Commercial Spaces
At Myers Architectural Millwork, our team has years of experience designing custom ceiling solutions for commercial spaces, including figuring out how best to bring together various elements needed for successful installation while still staying within budget constraints; we understand there is a balance between form and function when it comes to assembling these kinds of projects correctly so they last many years into the future with minimal maintenance required over time.
Custom millwork ceilings are a beautiful and polished way to elevate any commercial space. Not only do they add an air of sophistication, but they can also be customized to reflect the brand identity of your business. Here are six ways to integrate custom millwork ceilings into your commercial space.
Plank Ceiling
A plank ceiling is a type of custom millwork ceiling that consists of narrow strips of wood that are installed parallel to each other. Plank ceilings are a great option for spaces that want to achieve a rustic or industrial look.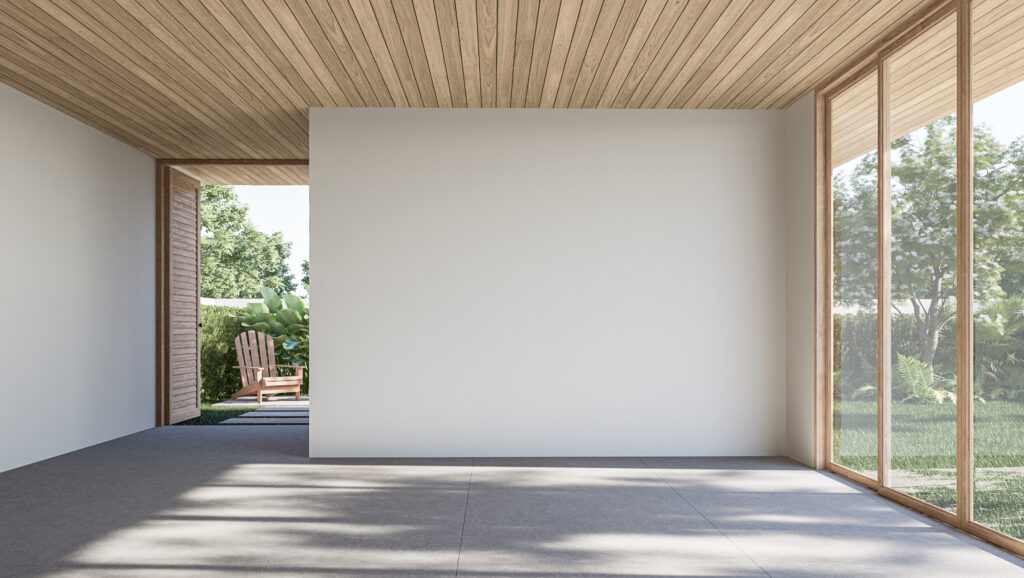 Our team can create a variety of designs using different types of wood species, colors, stains, finishes, textures and patterns. Not only does this provide a distinct aesthetic look but also ensures that each ceiling has its own unique characteristics and personality. Plank ceilings also give you the ability to play with light direction by adding coffers or other details to illuminate specific areas or feature points throughout the space.
The acoustic qualities that come with plank ceilings also make them an ideal choice for commercial settings as they help reduce ambient noise levels while ensuring excellent sound quality within the space. By using various sizes and lengths of planks during installation, you can create a mosaic pattern that helps absorb outside noise pollution; combined with soundproofing insulation this helps ensure optimal sound clarity in any room or space.
Coffered Ceiling
Coffered ceilings are another type of custom millwork ceiling that consists of recessed panels in the shape of a square or rectangle. Coffered ceilings are often used in office spaces because they give the illusion of a taller ceiling, which can make the space feel more open and spacious. They can also be used to highlight certain areas of the room, such as art pieces or architectural features.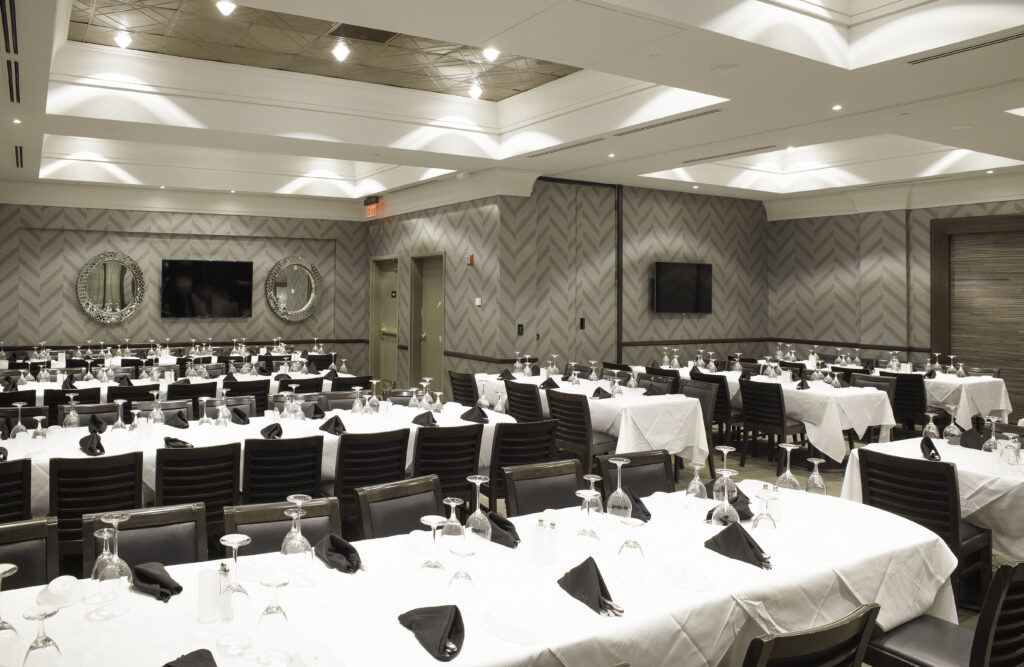 When it comes to coffered ceilings, our custom millwork involves creating ceiling grids made of individual beams intersected with panels of various materials or finishes. These beams can be composed of solid wood planks, MDF board, veneers or even metal grid frames. Our skilled craftsmen take careful measurements before constructing each beam precisely so the entire structure fits together perfectly. Each beam is then cut into the desired shape and size and fitted into the grid pattern created by the panels on the ceiling.
The design possibilities with custom millwork for coffered ceilings are virtually endless! From traditional patterns featuring square grids that are popular in classic designs to curved shapes and elaborate fretworks found in contemporary looks, you can create any kind of ceiling style you desire with our help.
Tray Ceiling
Tray ceilings, also known as recessed or inverted ceilings, are popular features of commercial spaces. They provide an opportunity to bring texture and dimension into a room that isn't always available with traditional ceiling styles.
A tray ceiling is a type of custom millwork ceiling that has a raised center section with lowered edges around it. Tray ceilings are a popular choice for restaurants because they provide an elegant look without being too formal. They can also be used in offices or retail spaces to create a sense of drama and luxury.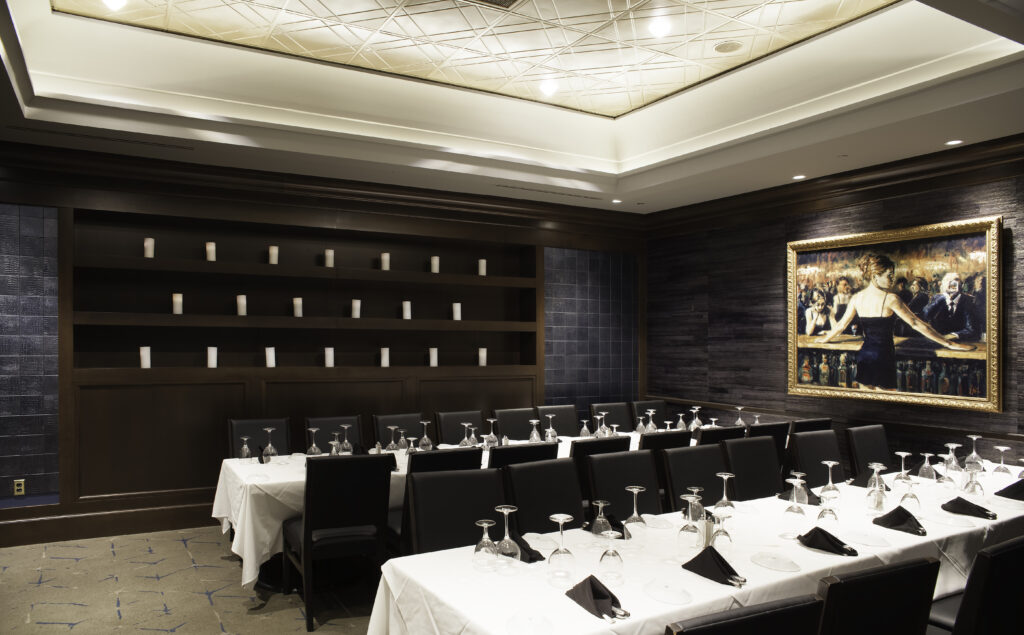 The beauty of custom millwork for tray ceilings is that it also serves practical purposes. The intricate detailing on paneling can help reduce sound reverberation throughout a space while elaborate crown moldings provide insulation against air leaks between walls and ceilings —saving energy costs in the long run. Even more basic designs like chair railings offer an opportunity to add an element of protection along walls while still delivering on style aesthetics.
Barrel Vault Ceiling
A barrel vault ceiling is a type of custom millwork ceiling that consists of two barrel vaults joined together at their apex. Barrel vault ceilings are often used in entryways or foyers because they create a grand and impressive entryway. They can also be used in hallways or corridors to create an airy and spacious feeling.
Custom millwork for barrel vault ceilings is available in a variety of styles and materials. From classic wood paneling to contemporary metal accents, there are endless possibilities when it comes to creating the perfect look for your space. Millwork is crafted from high-quality materials that can withstand the test of time, making it an ideal choice for businesses looking to create a lasting impression on their customers or guests. In addition to providing aesthetic appeal, custom millwork for barrel vault ceilings offers superior acoustic performance by absorbing sound and helping reduce noise levels in the space.
Custom millwork for barrel vault ceilings can also provide additional functionality in certain types of commercial settings. For example, restaurants may opt for decorative millwork with built-in lighting fixtures or cup holders in order to create a more inviting atmosphere. Hotels could use custom millwork with integrated sensors or other electronic components in order to increase convenience and safety. With so many functional options available through custom millwork, businesses can easily craft a unique experience that meets their needs while still providing beautiful visuals.
Wave Ceiling
The concept behind wave ceilings is quite simple: when properly designed, they create an optical illusion whereby the ceiling appears to move up and down slightly like waves across the entire surface area. This creates a visually interesting effect that stands out from traditional flat-planked wooden ceilings. Wave ceilings are also practical; depending on the size of the room, this design element can make it appear bigger by creating an illusion of greater height, making a space look more luxurious without adding any floorspace.
Wave ceilings are a great choice for spaces that want to achieve a softer look. For businesses seeking to add interest and distinction to their commercial space, wave ceilings are ideal for stylish establishments such as hotels, restaurants, retail stores and office buildings.
Curved Ceiling
A curved ceiling is a type of custom millwork ceiling that has curves or arches instead of straight lines. Curved ceilings are often used in entryways or foyers because they create a grand and impressive entryway. They can also be used in hallways or corridors to create an airy and spacious feeling.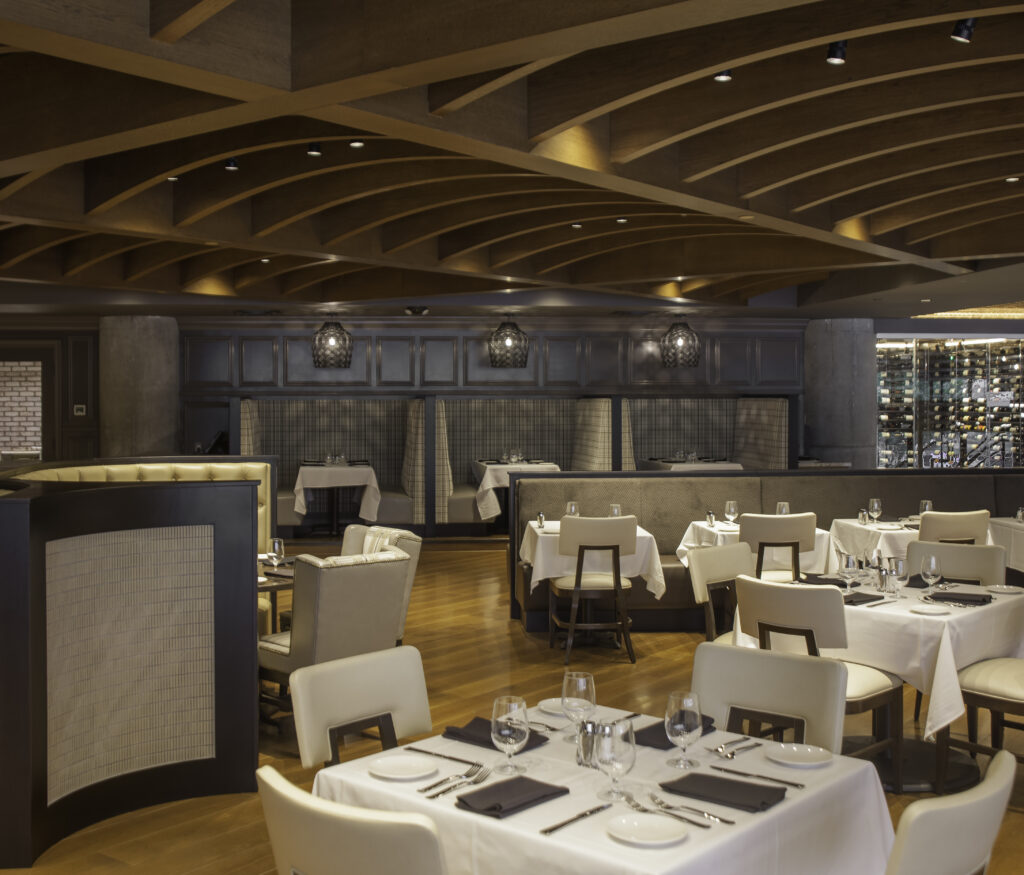 Our custom millwork solutions help elevate your business's setting by giving customers something unique they won't find anywhere else when they step inside your door — whether it be an upscale restaurant or luxury hotel lobby — giving you that edge over competitors who haven't yet delved into creative ways like this for distinguishing their own space aesthetically from other businesses nearby.
With our expertise in designing precision-crafted woodworking components combined with top quality materials, Myers Architectural Millwork is dedicated to creating beautiful crafted products tailored specifically to your needs. Contact us today to learn more!